News & Events
Noon : art exhibit by Massimiliano Luchetti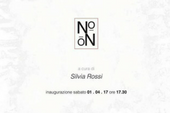 From April 1st 2017 San Lorenzo Art Gallery in Poppi presents "NooN", art exhibition by Massimiliano Luchetti curated by Silvia Rossi.
The exhibit is open for free 7days a week, from 10 am to 7 pm.
On Saturday, April 1st at 5:30 pm, the exhibit will open with a musical introduction, as long as the presentation of the new catalogue from the Tuscan artist, which includes the seven large paintings on show in Poppi.